The Vikan mop guide
What mop to use, where and why!
This guide will be of great help when you want to quickly check which of our mops works best for each individual task.
Of course, all the mops offer several advantages but, for the sake of simplicity, this guide focuses on just one or a few characteristics of each mop.
The aim is to make it easier for you to choose the right mop, and provide you with a short-cut to achieving the best possible cleaning result.
---
Dry mops
The high content of Vikan ultra microfibre insures that large quantities of dust and dirt particles can be removed by the mop with an extremely low level of friction.
Damp/Dry mops
Microfibre technology enables damp and dry cleaning now with the same powerful mop. Designed for use in hotels, hospitals and other facilities.
Wet mops
Wet mops are used in those areas where soaking is necessary to achieve the best possible results. Excess water must be dried up.
Special Mops
Vikan has a number of special mops, each developed for a specific purpose.
---
Dry 24 Item number: 5471xx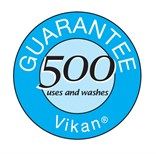 Floor
Dirt
40 cm
547140
60 cm
547160
All floors, corridors. Wax or soap treated.

• High level of larger,
loose dirt particles
• Dust
• Polyester fur mop for dust and larger particles.
• Ideal for dust sweeping all types of hard, flat floors where dry mopping may replace damp or wet mopping.
• The fibres pick up dust, dirt and hairs.
• Mop is ideal for use in corridors and other high traffic areas.
---