Vikan 7140 Ultra Hygiene Squeegee 400 mm
Sales price without tax
18,81 €
Ultra hygienic floor squeegee made from 1 piece with flexible Food Grade thermoplastic rubber. The end of the rubber is facing out, so that it connects to the wall. The raised splashing edge ensures that the liquid does not splash on the dried surface.
Vikan Ultra Hygienic
Squeegee
12 - Colors in 25 - 40 - 50 - 60 - 70cm
Vikan UHG designed according to Hygienic Design
suitable for the food processing industry.
Food safety and the prevention of cross-contamination is an important driver of the strict hygiene regulations, health and safety legislation that is aimed at the food and beverage industry. Failure to comply with the rules can result in products being recalled or products being destroyed, which could damage brand integrity and corporate reputation. Preventing cross-contamination by microbes and ingredients requires a hygienically clean environment. The Ultra Hygienic Squeegee from Vikan offers a practical and effective solution for efficient hygienic cleaning in a critical environment. The floor Squeegee has been developed in close collaboration with customers who strive to improve hygiene standards and to prevent microbial and contamination problems.

---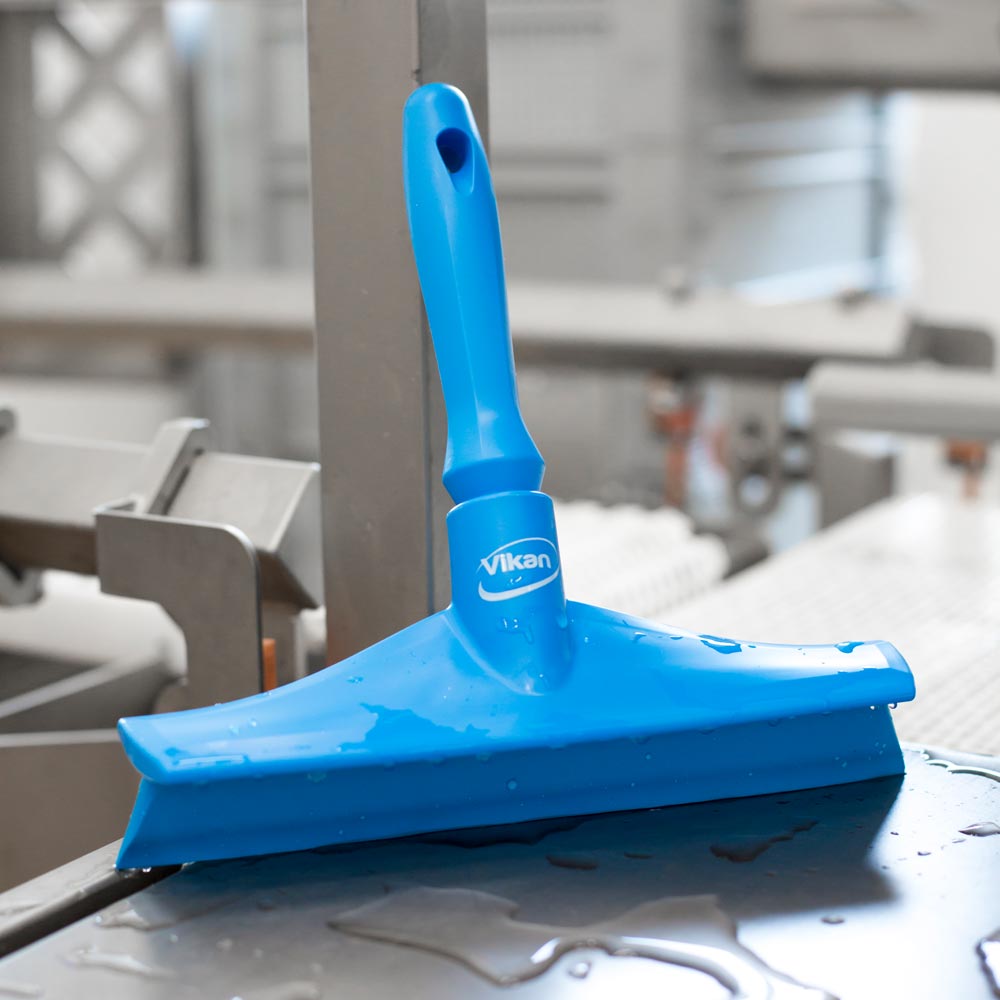 Vikan Ultra Hygiënic Squeegees in Color
Cleaning with the right tools ensures efficiency and satisfaction.
Vikan the market leader in Color Coded Tools HACCP Squeegees, now delivers floor wipers in very beautiful Hygienic Design. The ultimate water Squeegee for an environment that must meet the highest standards of hygiene. Very suitable for the food industry, pharmaceutical industry, intensive livestock farming, sanitary etc.
Vikan Hygiène System is for professional use but also households uses this UHG floor squeegee for sanitary and bathroom.
The fully-molded floor squeegee is also easy to keep clean. There is no chance of dirt and bacteria. The Food Grade material used is resistant to 121ºC and meets all requirements. Vikan is produced from a material that meets the requirements of the FDA and the European regulations for contact with food.
Safety is paramount in both design and the materials used.
---
---
Application
Vikan UHG Squeegee is ideal for use in:
Food &Beverage industry
Sanitary & Bathrooms
Cleaning
Hotels & Accomodation
Animal enclosure
Healthcare
Applying Polyurethane Flooring
---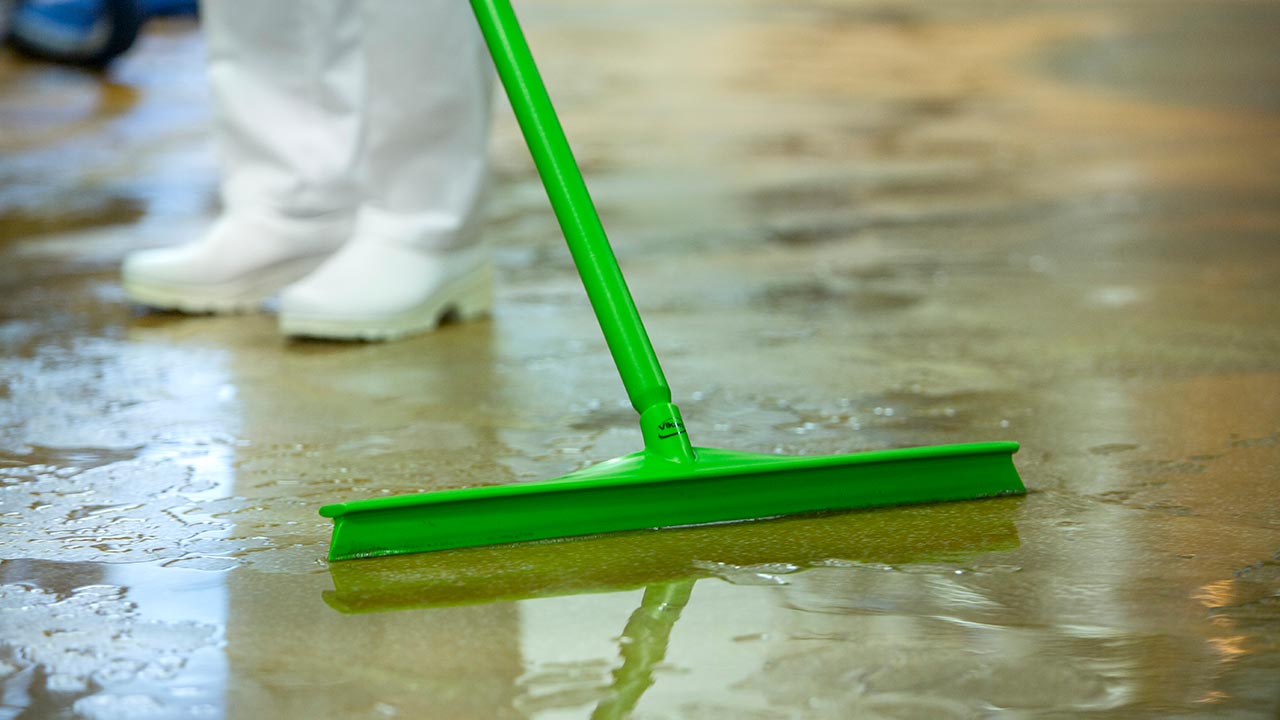 Conclusion of the Vikan Specialist
This floor Squeegee is not only very good but also just beautiful in design, Vikan has really thought about it. The top is firm/stiff but with a soft surface so you can not damage anything. The rubber is a whole with the Squeegee and perfect, not too soft but certainly not too hard. The elastic rubber can be used in a cold area up to minus 20°C or in industry up to a maximum of 100°C. The used TPE Rubber may come into direct contact with Foods provided that they are not higher in temperature than 50°C. The UHG Floor Wiper is less suitable for rough floors and prolonged exposure to oil. The floor squeegee is made out of 1 piece, replacement of the rubber is not possible.
TIP! for private use in a normal bathroom take the 40 cm variant Vikan 7140* with the Ultra Hygienic Handle 1300 mm Vikan 2960*.
---
Pros and cons
According to our specialists
---
Made entirely from 1 piece
Beautifull design
Food Grade
Splash Guard



Rubber is not replaceable
Product available
in various sizes and colors
---
25 - 40 - 50 -60 - 70 cm
pink - green - blue - red - white - yellow - brown - orange - lime - purple - gray - black
Documentation
Brochure UHG Squeegee
Specifications
In brief
---
Complies with (EC) 1935/2004 on food contact materials
FDA compliant raw material (CFR 21)
Produced according to EU Regulation 2023/2006/EC of Good Manufacturing Practice
Is Halal compliant
Meets the REACH Regulation (EC) No. 1907/2006
---
Recommended handle for Ultra Hygienic Squeegee
The Vikan Floor Squeegee handle 2960 130cm - 2962 150cm - 2964 170cm are recommended by us. These are made of Polypropylene and in the same color they form a nice combination floor squeegee with handle. The ideal length of the handle is shoulder height. Take a shorter handle of 130 cm in a small room such as a bathroom. Handles in stainless steel, ergonomic handle aluminum or all aluminum, the floor squeegee has a conical screw connection so that all Vikan Handle fit.

---

Price per piece.
Can be ordered per piece.
In box: 15