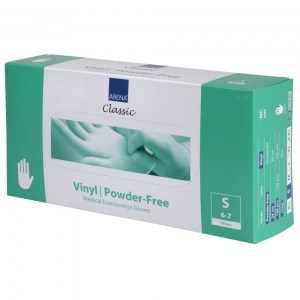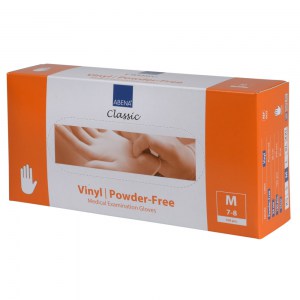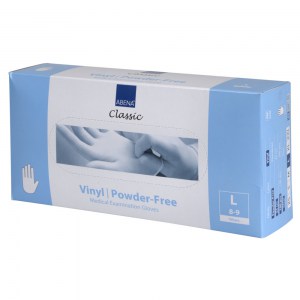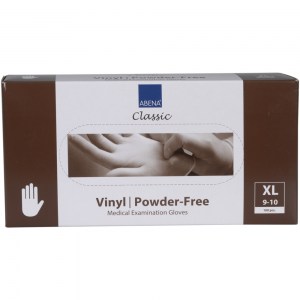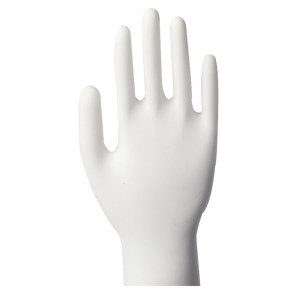 Abena Vinyl Gloves Transparent Powder Free S-M-L-XL
Examination glove with smooth surface and contains no latex proteins or accelerators. Suitable for handling non-fatty food products and brief cleaning tasks without strong chemicals. 100 piece in dispenser box
Abena Classic Vinyl Examination Gloves Powder Free
Powder Free Vinyl Examination Gloves are made from PVC and suitable for many applications..
The strong PVC material makes the gloves very easy to slide on and contains no latex proteins. Vinyl is a safe alternative for people with latex allergy.
Color Coded Gloves
Abena's Vinyl examination gloves are available in Transparant or Blue and different sizes ranking from XS to XL.
In order to avoid Cross Contamination and to make it easy for our customers to identify the right glove, we have designed the glove dispenser boxes in different colors.
Use the specific color you find most suitable for your business – or mix and match to have color code gloves for every task!
Quality
All of our disposable gloves are classified gloves and comply with all the requirements of the EN455 standards and CE labelling, Abena is IFS / BRC certified.
Packed in a 100-piece recognizable dispenser box and available from 10 * 100 pieces in a package.
Free of latex protein
Safe for People with Latex Allergy
Approved for handling of non-fatty foodstuff
High comfort
Strong material
Smooth surface
Protect
EN455
EN374
CAT III
CE

| | |
| --- | --- |
| Base name: | Examination gloves |
| Brand: | Abena |
| Sub-brand: | Classic |
| Shelf Life: | 5 years |
| -color: | transparent |
| Material: | vinyl |
| Technical ingredients: | PVC, DINP, Viscosity reducer JNJ, PU-coating, Ca-Zn Stabilizer |
| Properties: | latex free, smooth, low grip, rolled cuff |
| Features: | powder free |
| Single or multiple use: | single use |
| Size: | S - M - L - XL |
| Length/depth: | 240 mm |
| Width: | 85 mm |
| Thickness: | 0,16 mm |
| Certifications: | CE, Food contact materials, CAT III, MD |
| Product or test standards: | EN 455, AQL 1.5, EN 420, EN 374-1:2016 Type B KPT, EN 374-5:2016 VIRUS |
| CE Class (Medical Devices): | Class I |
| CE Category (Personal Protective Equipment): | CAT III |
| Directives, regulations and acts: | 745/2017/EU, 425/2016/EU, 10/2011/EU |
| Product Description: | Examination glove with smooth surface and contains no latex proteins or accelerators. Suitable for handling non-fatty food products and brief cleaning tasks without strong chemicals. |
| Instructions for use/application: | Examine the gloves for flaws and defects before use |
| Storage Instructions: | Store dry, clean and at room temperature. |
| Safety Instructions and Warnings: | Avoid contact with fatty food products as the plasticizers in the glove can migrate to food during prolonged contact. Contain PVC and plasticizers. |
| Product Disposal Instructions: | Sort as plastic. If contaminated dispose off as clinical waste. |